Using apps "share it" to data transfer is a mess since you need to install "share it" both on mobile as well as in Desktop. But today I'll share an entirely new way to transfer data without installing any dedicated software. All though we need to install a platform called Node.js.
Follow these steps or watch the video:
1. Download and install Nodejs from official website as per.
2. Download this zip file and unzip it.
3. Open command prompt (or Terminal in case of mac or Linux) and go to the perticular folder using terminal commands. If you don't know terminal command, this video will give a basic idea how terminal commands work. And if you still face any problem then leave a comment down below.
4. Use cd EasyMobileToComputerDataTransfer to move to the directory.
5. Type command npm start the terminal and wait for few seconds. It will start a local server and will show you some instructions to open the Web App.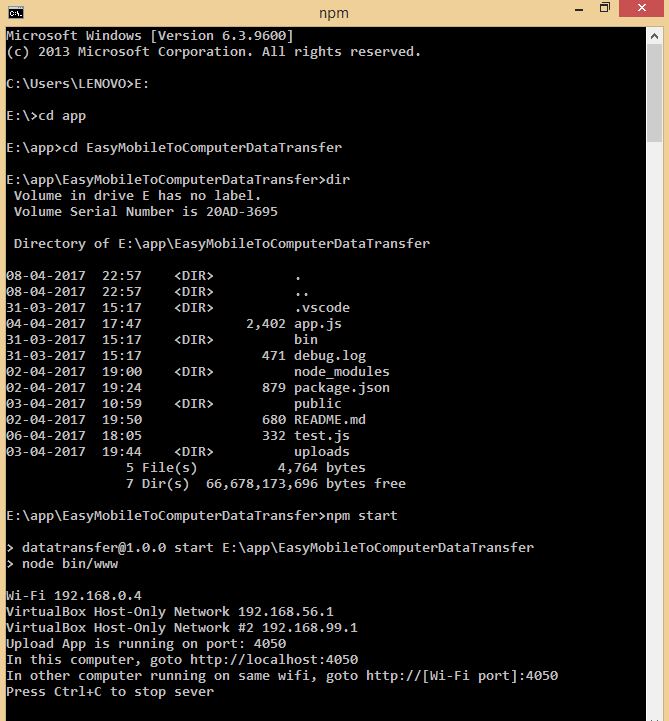 Note: Before going any further, you have to make sure that your mobile, as well as your computer, must be running on same WiFi. Or you can create a wifi hotspot from your smartphone and connect your computer from that wifi.
6. In above image note down the ip address of the Wifi port. In this case, it's 192.168.0.4. Ours will be different. Now open any browser on your mobile phone or other laptop and go to http://192.168.0.4:4050/" , change this (92.168.0.4) to your WiFi port address and add 4050 at end. You will see a user-interface like this: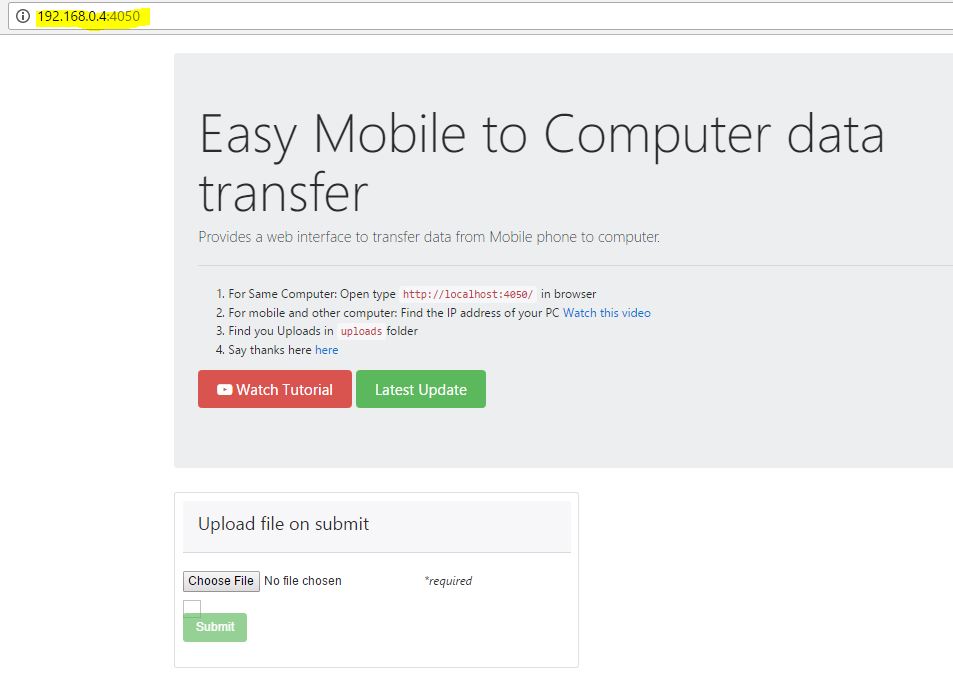 7. Now click on upload and select only one file that you want to transfer. Basically you have to transfer files one by one. In the future release of the application, I will modify this app, so that you can upload multiple files at once. Check my github for the second release of this application.
8. Your files will in the Uploads folder of the application. Check EasyMobileToComputerDataTransfer/uploads folder oin your computer.
And this is how you transfer data without installing any software on your mobile. Also, the speed will be very high. If you face any problem let me know in the comment section below.